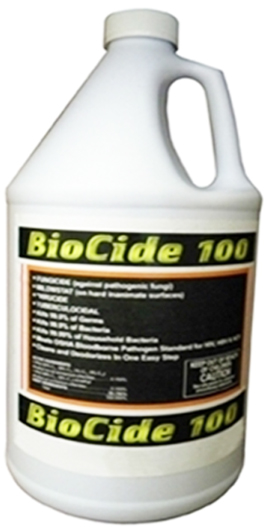 Biocide 100 is a unique and versatile product that, in many processing facilities, has proven to be a multi-application chemical and sanitizer, able to eliminate 99.9% of all bacteria, viruses, and fungi. The Biocide 100 formulation also enables the product to be an effective degreaser for fat and protein buildups.
Meets OSHA Bloodborne pathogen standard for HIV, HBV, and HCV.
Effective as:
Cleans and deodorizes in one easy step
Effective against:
This product is a fast and easy suppression and elimination system for bacteria, viruses, and fungi. Lower the maintenance time and cost for any job. The Fog is an EPA registered hospital grade disinfectant, which gives it the ability to be used in a wide variety of locations safely. The benefit to ading a fogger to your existing maintenance protocol allows you to treat the entire environment with something as simple as a click.
The Fog will get into places traditional cleaners just can't reach, reducing the spread of sporulating bacteria, mold, and other airborne pathogens. The Fog is also a highly advanced deodorizer in addition to being a Hospital grade disinfectant, which makes The Fog one of the most versatile disinfectants on the market.
Effective as:
One unit covers up to 6000 cubic feet
Effective against: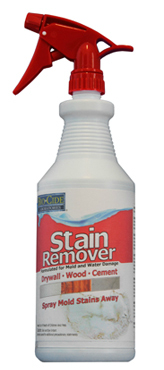 Stain Remover
Drywall, Wood, & Concrete
Usually when homeowners or maintenance personnel want to remove a stain from the ceiling or drywall, they have multiple steps in order to deal with the stain:
Cover it over with a stain blocker, wait for it to dry, then paint it and try to match the paint. Cut that section out, replace, sand finish the drywall then prime it, paint it. Resurface it with stipple or orange peel, and try their best to match it up.
With our revolutionary stain remover those steps are no longer necessary. With just a few sprays, your drywall, wood, or concrete stains will go away. This one of a kind product will remove almost any water or mold stain in just 10 minutes!
Eliminate Drywall Stains!
Other stain removing products just apply a thick and messy concealer that is likely visible after treatment. Biocide Labs Stain Remover will eliminate the stains from lightly colored substrates without leaving a trace.
Brightens Up and Removes Stains
You can use Biocide labs Stain Remover on a large variety of different substrates:
Only for use on white walls!
Easy to use mold fogger, Prevent mold from becoming a growing problem. Mold Bomb Kills mold in just one treatment. Our revolutionary one of a kind delivery system will get places you cannot reach with any other product. Mold Bomb works great for mold suppression, prevention, contents, rooms, appliances, eliminates odors, and disinfects surfaces. Don't risk a bigger mold problem when you already have with a less effective cleaner. Go with a product that works, "Mold Bomb"!
Effective as:
Mold Bomb will treat not only the room but everything inside that room as well.


An all purpose "dual-chain" quat for sanitizing food processing equipment in meat, poultry, dairy and other food plants. May also be used for sanitizing egg shells and as a hand dip. Effective disinfectant against Salmonella, Staph, Pseudomonas, and Listeria in schools, hospitals, offices and other institutions. Controls algae in swimming pools and industrial cooling systems. Ingredients
Ingredients:
Concentrated slimicide for industrial recirculating water cooling systems:
This product is formulated with a blend of phosphoric and hydroxyacetic acids and a low-foaming detergent for use in dairies, beverage plants and other food processing areas. Removes hard water scale, millstone, rust and other mineral deposits. Brightens stainless steel and aluminum equipment. When used for acidified rinse, it effectively neutralizes alkali Dresidues. May be used with CIP, soak, or spray-cleaning methods.
Ingredients:


This product is a double-chelated, highly caustic non-foaming cleaner and degreaser. Excellent for removal of carbonized and greasy soils in CIP or soak cleaning of food processing equipment, bottle washing, hot milk lines, HTST units, fryer boil-outs, etc. May also be used as a alkaline booster for laundry detergents.
Ingredients:
This product is a heavy-duty, chlorinated, phosphate-free, alkali cleaner and degreaser, formulated with dispersants and chelating for fast cleaning and thorough rinsing. Designed for removal of fatty, proteinaceous and blood soils from food processing equipment, cold milk lines, cold milk tanks, etc.
Ingredients:

A highly concentrated, citrus based degreaser. This is 70% active degreaser may be used undiluted for the toughest jobs, or diluted depending on the desired application. This product will emulsify with water for powerful grease cutting action.
Ingredients:
This product is an effective one-step cleaner/sanitizer for use in food processing plants and restaurants by personnel prior to handling food and/or food-processing equipment. Based on quaternary ammonium chlorides, this viscous formulation is more cost-efficient than traditional PCMX-based products.
Active Ingredients:
Inactive Ingredients: Water, glycerin, isopropyl alcohol, disodium cocoamphodipropionule, hydroxyelhylcellulose, lauramine oxide, PEG-75 lanolin, citric acid, FD & C red #4


This thick, high-foaming hand soap is formulated with the mildest detergents, emollients and skin conditioners. Leaves your hands clean, soft and fresh smelling.
Active Ingredients:
Extensive experience in cleaning and disinfecting medical facilities, including new building start-ups, makes us well positioned to provide this specialized service. Our terminal cleaning specialists understand the risk of blood-borne pathogens in a medical environment and follow industry protocols to maintain compliance.
IT'S NOT CLEAN UNTIL IT'S BEEN BIOCIDE CLEANED, TO PROTECT HEALTH WITHOUT HARMING THE ENVIRONMENT!
www.SuperiorHood-Duct.com
Professionally Serving Florida Since 1999